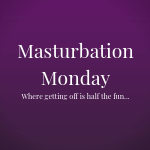 Just another chapter in our ongoing d/s saga, you can find my other Masturbation Monday posts
here
,
here
,
and
here…
As I awoke on Saturday morning I could immediately feel a powerful and uncomfortable pressure in my shorts, the proverbial 'morning wood' caused by a buildup of testosterone overnight. Nothing particularly unusual about that except that the erection was accompanied by a strange tingling sensation in my balls. They seemed to be hard at work, busily doing whatever it is that testicles do. I didn't think much of it at the time as I arose careful not to disturb my still sleeping wife…
As I set out for my routine early morning walk for seemingly no reason, I began to feel a swell of emotions, tears began to fill my eyes, a single drop falling on the sidewalk in front of me; it dawned on me that this was
going to be one of those crazy hormone days. One
side-effect of our nursing play is that I am regularly exposed to my wife's hormones. Of course my body doesn't take kindly to the presence of female hormones so it attempts to restore the balance by pumping out more testosterone…
I had to admit that I had been milking Mommy pretty thoroughly lately; as I thought about the previous night's session the tingling in my balls resumed with renewed ferocity. By the time I returned home I had fully swung from weepy emotionality to lusty and aggressive T-rage…
I explained my plight to my wife(she has witnessed this rollercoaster before), but she seemed to have little sympathy. I was going to have to tough it out, we had things to do, groceries to buy, and preparations to make for our Thanksgiving dinner on Sunday. As she was saying these things she had been absently juggling my balls, knowingly teasing me with an impish grin on her face. As much as I hate losing my head to lust the hormones were just too powerful, my balls had taken charge and they were doing the thinking for me now…
I must have been throwing off some pretty serious pheremones because even my cats appeared out of nowhere seeking affection and displaying signs of deference to me as the alpha male of our little pride. I tried to busy myself with chores but whenever I found myself in any kind of proximity to my wife the fire in my balls would kick-up again and I would sneak a quick spank or rough grope in, Mommy's hand instinctually grasping my package in response only to be yanked back to reality by our children bickering in the other room…
It was torturous, the inside of my shorts had sprouted numerous independent wet spots, sticky with prostate fluid from repeated erections. Mommy was only too happy to keep teasing me mercilessly. I wasn't even sure whether she was genuinely playing a tease and denial domme role or whether she was bratting in order to push me into that aggressive primal beast that I was only barely keeping in check at the moment, I'm not even sure she knew what she was about, but I know that she would be just fine with either outcome. What I did know is that there was no way I could hold out for the entire day like this and I told her so. We both knew that meant I might have to take care of myself, and neither of us were particularly pleased by the thought…
Over the past 18 months or so I have all but completely stopped masturbating. It is so rare an occurrence now that it usually prompts a Masturbation Monday post such as this when it does happen. I wanted to be strong. As my wife headed out with the children to do some shopping, I prayed to my God for fortitude, but my God is a lusty and indulgent master so that was little help. It took all of five minutes for me to rationalize an excuse. I had been so worked-up all day that when the time came for a session I would last but a few seconds, wouldn't I actually be doing a disservice to my wife if I didn't knock out this easy-one now? I know that isn't the soundest logic but any logic would have done at that point. So off I went for a quick wank in the bathroom, and it really didn't take long at all…
It was a very strange orgasm, my load was comprised almost completely of prostate fluid, it came out thin, runny and clear. I guess my balls were far too busy producing testosterone to bother manufacturing sperm. It also did absolutely nothing to relieve my raging lust, an almost completely pointless exercise. I had resigned myself to the fact that the only cure to my situation was going to be an aggressive and lengthy session, for which I would have to wait many more hours for…
The rest of that day is mostly a blur, we went shopping, bought a huge turkey, I had a few more weepy moments and several ragey ones too as the battle for hormonal supremacy continued felt but unseen inside my body. Mommy kept teasing me, and I even started bratting back. Looking for a good mind-fuck? Try sorting out a couple of switches bratting at the same time from a genuine fight, hell I wasn't even sure who was supposed to be the top whenever the kids finally did get to sleep. My balls took the lead on this issue though pumping me with chemical masculinity until I was determined to show my wife just who the boss is…
I didn't have much in the way of a scene planned, only grabbing a couple of toys from the drawer. Mommy had been hinting around(and even broadcasting on Twitter) that she had been craving some backdoor action so I had grabbed a medium sized plug in addition to a set of small Ben-Wah balls. The funny thing is I never got around to plugging her as just the sight of it on the table and the thought of what I might do with it was enough to push her into some fierce orgasms. It was nice to see that I wasn't the only one who had been desperately thirsty from all of the day's teasing interplay. It was three or four orgasms in when I yanked out the balls and began to lube-up my hand. She spread her legs a bit wider and set her hips in preparation for the sort of fisting that she doesn't just enjoy but requires from time to time to maintain her sunny disposition…
The extra lube was completely unnecessary as she was already dripping and oozing from the succession of orgasms. My hand slid in with only one good push that elicited a gasp when I made it past the breach. I took a moment to manouver my hand into the correct positioning. I began to furiously squeeze and pump the entirety of her upper vaginal wall, she began to squirt in response, I jiggled my arm at the elbow so my knuckles would stimulate her cervix on the downstroke. It was so intense, I only then realized that I had a mouthful of her flesh in my teeth so I disengaged to find a large and bright red hickey left behind on her abdomen(oops). I awkwardly stuck my other hand into the mix to work her clit and that was exactly what she needed to push her over the top into some next-level orgasms. As I simultaneously worked her g-spot, a-spot, cervix and clit I could feel the torque in my elbows and shoulders from the unnatural positioning and use of my arms. I was fading fast, but she was begging me to keep going, she was having an elusive and nearly mythical uterine orgasm, the convulsions causing her cervix to expel the mucousal lining of her uterus as she squealed in esctasy.
As the last of her spasms were dying out, and my arms were screaming at me I finally stopped and pulled my fist out. It was covered in a thick goo, extracted from her deepest inner places. I spread my fingers slowly to show her as ropey strands clung glistening to each digit. I shook my hand forcefully downward and her cum hit the floor with an audible splat…It was kind of gross to be honest, but neither of us were anything but turned on at that point so it just seemed to work…I had made her come in every way possible but I hadn't even thought about getting mine until that point so it was straight to an impassioned hard-fucking from there…
So if there is any doubt as to what I am most thankful for this Thanksgiving it is that, all of that, the unbelievably rewarding relationship that we have managed to build together…