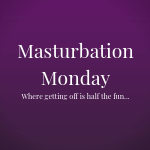 Re-linking an old post because the original link died when we migrated to our new domain.
So as many of you may already be aware, I am a pretty sex-positive guy, though I've only been open and vocal about it for a handful of months now. My partners of course have known the vast majority of my deepest, darkest secrets, for the most part, however, of the twenty-something years I've been sexually active, I have still kept some few personal secrets from even my most intimate partner, my slave and my owner of nine years, my wife…
I am a big fan of transparency, perhaps my devotion to my goddess Veritas is largely responsible for my sometimes annoying devotion to being open, honest, and sharing T.M.I. lately. So when I stumbled upon the call-to-arms of the eminently badass BDSM podcaster @KaylaLords for #MasturbationMonday I couldn't help but take up the challenge…
Perhaps it is because I am Canadian that the morals that were impressed upon me came from the influence of the British Monarchy. From Victoria on to Elizabeth II the cultural milieu was one of prudishness about talking about anything slightly sexual. Certain things were never to be spoken of in polite society. Masturbation in particular is something that though it became to be acknowledged in our rather liberal society, it was still never quite spoken about. The only time I was ever caught masturbating by a family member was my father when I was but thirteen years of age. This was the same father however that had caught his boy of seven under the covers with the older girl next door and was met with a 'that's my boy'…
The problem is however that I have to acknowledge that I quite probably suffer from some form of Hyper-sexual Disorder. Completely regardless of how much sex I happened to be having at any time (and that is a lot of sex) I was a chronic masturbator in private. We're talking multiple times per day regularly. I had started jerking-off in the shower at the age of thirteen after a lengthy period of self-sacrifice to prove mastery of my slavish desires…Back in my day however we didn't have access to porn, we didn't even have the internet. If you wanted to get off you had to fantasize, use your own mind to arouse yourself. It is a process that leads to incredible self-knowledge; if you don't know what really arouses you when you are left to yourself you will never find someone who arouses you outside of fantasy. It was how I discovered my BDSM tastes and philosophy, what aroused me were thoughts of submission at the start of my awakening, I only afterward discovered my true alpha dominance, and made it the passion of my work…
So we fast forward to now, I'm this world-class, professional, semi-retired, storybook Daddy Dom, with decades of experience and skills, having this secret of masturbating pretty much whenever it was safe to. I even kept the full extent of this problem from my sub-wife until we had a round of formal BDSM re-negotiation, instead of renewing our vows like a vanilla married couple would. I had tried to impose upon her a rule of no self pleasure in the context of our dom/sub relationship, she however, being a willful woman(which I appreciate) put the same rule to me; this precipitated one of the more awkward confessions of my life;  I was some kind of habitual-wanker…
My wife only ever occasionally masturbates, it doesn't get her off, she as a natural submissive needs a dom to force her to orgasm. Even still our children couldn't help but question her 'massage wand' by the bedside though. This informed her viewpoint on the matter; she also never spoke about it, just accepting that 'everyone occasionally does it'. Of course she began to question what sort of things aroused me in the golden age of mobile internet porn…
If you were to read up on my blog you'd probably expect that I would watch enough hardcore BDSM porn to give your average vanilla matron a heart-attack; the truth however is much more wholesome. I felt a little foolish admitting that on the whole I mostly get off to solo shower vids. No bondage or impact, just a wet soapy woman and maybe a toy of some kind; how prosaic…
Even still this confession was disturbing to my wife, whom would wish nothing more than for me to only have eyes for her, and to save every drop of my precious fluids for her exclusive consumption. I very much wanted to please her in this regard so I very seriously started to cut out both masturbation and porn from my daily routine. Going against a lifetime of habitual self-indulgence is quite a bit more difficult than just quitting cold-turkey though. I had a few lapses, which actually left me feeling guilty and ashamed for the first time in my life. I needed some new sort of coping strategy…
The core of the issue seemed to be that my wife could not help but feel inadequate when she knew that I was looking at other women on the internet. The solution than seemed to be that I needed some porn that would not arouse such powerful feelings of jealousy. We started out filming a couple of our scenes, which were amazing while they were happening but perhaps didn't translate well into film with a single static camera angle and the nervousness of a couple of amateurs. I couldn't even watch without noticing just how awkward some of my sex-faces looked, I sincerely wondered how my wife doesn't regularly giggle at some of those expressions…
It was just an average Saturday afternoon when we finally figured it all out. I had been relentlessly teasing my wife all afternoon with naughty texts, going over some particularly juicy highlights from our Friday night session. I could tell from the size of her pupils and the flush creeping up her neck from the top of her chest that she was very much turned-on and I just kept pushing her buttons until I could literally smell her from across the room. Of course what made it all the more cruel was that both our children were awake and there was no way we could sneak away for a session…
She had had enough finally, craving release so badly that she formally asked for permission to take care of herself. We had recently purchased a water-proof vibrator but we had not tested that feature out yet. It took me only a few moments to come up with a suitable plan. I would watch the kids while she discreetly excused herself to go take a shower, my only stipulation was that she had to film it…
About twenty minutes later my wife came out of the bathroom with a smile on her face and a flush from her cheeks to her breasts clearly visible; she handed me her phone while I whispered a 'good girl' in response. I sat down on the couch and very carefully began to watch the video, not really prepared for my reaction to what I would see…
I had watched my wife shower in person many times over our relationship, but this seemed different, I knew this time was special, because she was carrying out my command like the good sub that she is, and indulging my most common fantasy in the process. I was enthralled, as I watched my body launched into a lengthy series of uncontrollable abdominal spasms that I could only characterize as 'dry orgasms'. I was never aroused so powerfully in my life by any porn, but just the simple sight of my beloved sub dripping wet, coming all over the pretty pink vibrator left me so shaken-up that I couldn't even bear to watch to the end. I was starting to cramp up in my lower abdominals and I already had to hide my throbbing erection with a nearby throw pillow. The best part of it all though was the glowing expression on my wife's face as she soaked up my reaction to watching her pleasure herself.
Six months into this experiment in self-denial and I can barely even remember the last time I masturbated, but I do know exactly what video I was watching when I did. The only video I will ever need…